What is ISO 9001?
Most of the international standards begin with the letters "ISO", the acronym for the "International Organisation for Standardisation." This worldwide federation of 110 national standards bodies works to promote the growth of manufacturing, trade and communication among business operations worldwide, through the development of generic quality standards.
The most widely recognised standard is ISO 9001, a basic quality management system that can be used in industries of any size, anywhere in the world. Registration to ISO 9001 (or other quality/management standards) provides objective proof that a business has implemented an effective quality management system, and that it satisfies all of the requirements of the applicable standard. An external, impartial expert called a registrar or CB (Certification Body) conducts an on-site audit to determine whether or not a company is in conformance to the standard. If they are found to be in conformance, they will be issued a certificate showing their address, scope of operations and the seals of the accreditation bodies that give the registrar its legitimacy.
The latest revision of the ISO 9001 standard was released in November 2008. The changes are only clarification to existing clauses. An IAF (International Accreditation Forum) states:
ISO 9001:2008 Process Flow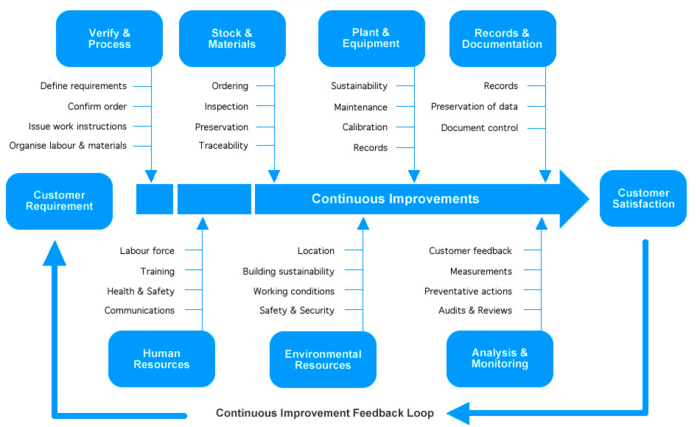 Click on image to enlarge.
ISO 9001 Revision
ISO 9001 is being revised and is expected to be published around the end of 2015.

It is one of the most recognised standards with over 1.1 million certificates issued globally. The revision will ensure the standard continues to help organisations streamline their management processes, maintain efficiency and increase productivity. Read more